Nursing and Midwifery Council of Nigeria, (NMCN) has applauded the authority of Bowen University, Iwo, headed by Professor Joshua Ogunwole for deeming it fit to offer immediate employment to five of its Nursing graduating students who had distinctions in the recent Nursing Professional Certificate Examination.
The Head of Department Human Resources of the council, Emmanuel Udontre, Who represented the Secretary-General of the council, Dr Umar Abubakar, made the commendation at the 2021 induction ceremony of Bowen University's Nursing graduates held on the campus recently.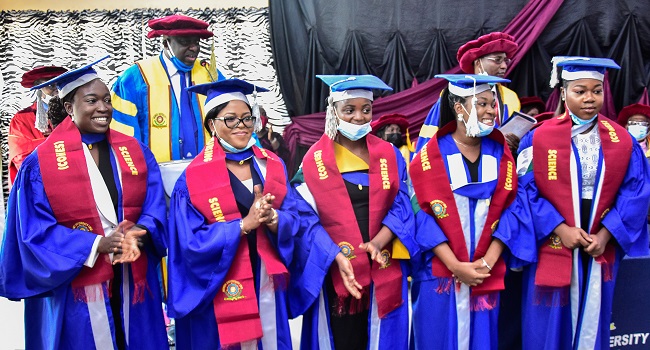 According to him, Bowen is establishing an indelible legacy worthy of emulation by other tertiary institutions in the country.
He described the decision of the university as apt, saying that the development would go a long way to reduce the brain drain and unemployment among the Nursing profession in the country.
He said: " Going by the brilliant performances of Bowen students in our professional examinations shows that the university is endowed with experienced professional lecturers, adequate teaching/research aids, conducive learning environment and responsive students.
"It is amazing that out of 39 Bachelor of nursing graduates that the university presented for induction this year, five of them had distinctions in our professional examinations. It is my advice that the university will keep investing in its human development capacity building and its teaching aids in order to sustain and improve on the performances of its students in the subsequent academic years ahead of them."
Similarly, Parents of the inductees also rained an encomium on the university for the sustenance of excellence education incorporated with leadership and Godliness it impacted on the lives of our children ever since the university started.
Revered Dr Steve Adekanbi from Lagos, attested that four of his children had passed through the university and they were doing well in their respective fields. He noted that though, his daughter was among the inductees who had a distinction in the nursing profession examination, the Godliness he saw in his children made him happy, while the announcement of her daughter's immediate employment without stress elevated his joy to worship God the more. He described Bowen University as a citadel built for academic excellence, moral and innovation education to mentor the best to break records.
Speaking in the same vein, Venerable Bunmi Aladegbami and Mr Adejare Betiku expressed satisfaction with the academic excellence and moral standard of the university. They asserted that Bowen university is an institution of learning where students can develop their potential.
According to them, the university environment does not allow the students to be polluted and the fear of God is instilled in them would enhance their integrity as future leaders in society.
They said: " Bowen university is a training ground for future leaders. It is an institution where Nigerian youths' hope can be raised. The announcement of immediate employment of our children brought joy to every parent and we do not regret that we chose Bowen for our children for quality education and skill acquisition attainments.
Also, some of the best graduating students, Abisola Betiku, Adedolapo Adekanbi and Oluwadamilola Aladegbami who spoke with Nigerian Tribune about the university, declared that the institution exposed them to hard work, discipline, self-confidence, and trust in God for success in life
According to them, what makes Bowen university's students excel and different from their counterparts from public universities in the country is their cordial relationship with their lecturers.
They said: " Here in Bowen, we have direct access to our lecturers and ever ready to attend to our academic studies' needs, they always sacrifice their time to put us through. As a matter of fact, they are in loco parentis in terms of educational counselling. Bowen is a knowledge-driven institution, based on excellence, Godliness and leadership. The school environment makes learning very conducive for excellent academic performance."
In response, the Vice-Chancellor of the university, Professor Joshua Ogunwole reiterated that Bowen University would continue to produce graduates who would be problem solvers in their various fields in society.
According to the Vice-Chancellor, the university gave immediate appointment to the five outstanding Nursing graduating students of the institution, 2021 set, to join the University Teaching Hospital was primarily to catch them young as brilliant graduates. He said that the university would encourage them to pursue their master's degree programme on scholarship in the university and will be willing to send them abroad for their doctorate degree programmes. We teach our students to be creative and to add value to their world. " I am made bold to say that Bowen University graduates stand out when it comes to discipline and ethics in the workplace," he concluded.
Source:
Tribune Newspaper